100) ? false : true">
Caravan
Your Best Pod Coffee Yet
With millions choosing to get their coffee from a pod, over an aeropress, Caravan launched their own pods to market. The challenge? Many think that pod coffee "doesn't taste as good".
Caravan brought us all day dining with their restaurants across London and have been trendsetters since day one, as experts on craft coffee. And, consumers choose craft coffee because they think it tastes best.
Coffee pods have had a bad rep. Seen as a speedy 'make do' at home alternative to quality espresso, lacking that great flavour. Enter Caravan Coffee Roasters pods, here to break the mould…
Finally… Great tasting craft coffee at the push of a button. Craft coffee pioneers Caravan have made a lot of flat whites; now they're using all that expertise to help you make your best pod coffee yet. Through partnering with one of the icons of F&D on Instagram, and TASTE friend, Clerkenwell Boy, he brought his cultural kudos and authority to the pods. He springboarded the #CaravanCoffeeClub online to create a growing community of Caravan superfans. We drove leading coverage across national & consumer media and got pods in the hands of thousands, through sampling, partnerships and product drops.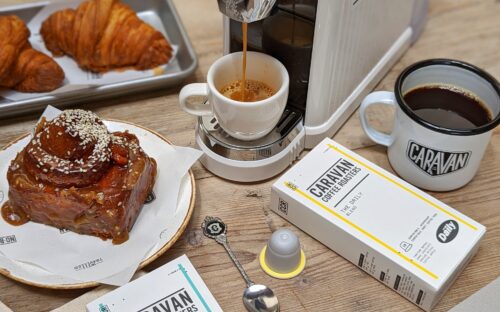 Craft coffee pioneers, Caravan, bring you the best pod coffee yet
Finally...great tasting coffee at the push of a button
Appetite created.
Superfans
Created an online community of advocates in the #CaravanCoffeeClub
The 'O.G' F&D instagrammer
Unlocked for the campaign
1,500
Coffee pods in hands